Heal and Soften extremely rough, dry skin with Palmer's Cocoa Butter Formula Original Solid, crafted with intensively moisturizing Cocoa Butter and Vitamin E. This unique concentrated solid melts into skin to lock in moisture.
Proudly made in U.S.A., Palmer's® has been a trusted brand for over 180 years, providing high-quality natural products that are passed down from generation to generation. America's #1 Cocoa Butter brand Palmer's Cocoa Butter Formula uses the highest quality natural ingredients for superior moisturization head-to-toe.
Palmer's Cocoa Butter Formula to help reduce the appearance of scars and marks. Rich in vitamin E to help lighten marks, it also has healing properties and tones skin while providing deep moisturization.
Features:
Butter formula has a soothing emollient base
Recommended for stretch marks during and after pregnancy
Made with pure cocoa butter
Heals and softens rough skin
Tones the skin to an even shade
Works as an advanced moisturizer
Cocoa Butter is a healthy core substance inside the cocoa seed. One of the main benefits of Cocoa Butter is that it helps retain the moisture between skin layers preventing skin de-hydration. Our Cocoa Butter also contains Vitamin E with its fantastic anti-oxidant elements that can help the anti aging process. Cocoa Butter has an efficient way in softening the skin and removing skin marks with regular usage, leaving the skin looking healthy and radiant.

Ingridients
Water (Aqua), Theobroma Cacao(Cocoa) Extract, Glyceryl Stea-rate, Petrolatum, Propylene Glycol, Glycerin, Cocos Nucifera(Co-conut) Oil, Mineral Oil (Paraffinium Liquidum), Theobroma Cacao (Cocoa) Seed Butter, Elaeis Guineensis Oil, Cetyl Alcohol, Di-methicone, Tocopheryl Acetate, Hydroxyethylcellulose, PEG-8 Stea-rate, Behentrimonium Methosulfate, Butylene Glycol, Stearalkoni-um Chloride, Cellulose, Sodium Acetate, Fragrance (Parfum), Phe noxyethanol, Sorbic Acid, Benzoic Acid, Stearyl Alcohol, Myristyl Al-cohol, Yellow 5 (C119140), Orange 4 (C115510), Benzyl Alcohol.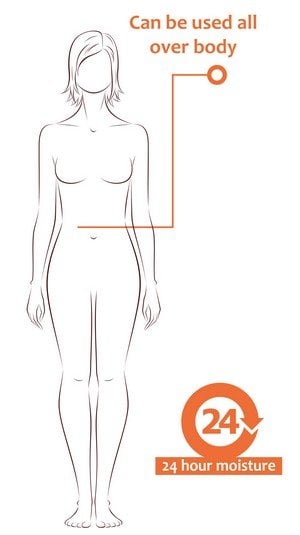 Benefits
Contains 100% pure Cocoa Butter G Vitamin E to soften dry skin
Melts at body temperature for rapid and deep absorption
Smoothes marks G scars and tones skin
Promotes skin healing
Protects and forms an effective barrier from the aging affects of the sun
Heals dry skin

What makes Cocoa Butter good for your skin?
Cocoa Mass Polyphenols - Combination of powerful Anti-Oxidants, prevents skin damage, helps prevent wrinkles.
Vitamin E - Anti-oxidants help prevent ageing, protects collagen from damage, Palmer's add extra Vitamin E into every Cocoa Butter Formula.
Olec Acid - Promotes cell regeneration, anti-inflammatory, soothes breakouts.
Protects - Forms an effective barrier from environmental pollutants, seals in moisture all day to combat dryness.
Nourishes - Vitamin & mineral rich, promoting skin health.
Promotes Skin Healing - Fights acne scars stretch marks, encourages rapid cell regeneration.
Tips / How to use
Apply to clean, dry skin and massage gently in a circular motion until absorbed.